On Wednesday, 9th June, we welcomed Daniel Gallimore to our German class (Grade 3 AGP). When Daniel joined our lesson on zoom, we saw him sitting in front of his drums. Daniel is a professional musician, playing drums with his band Neomore and he is also a drum teacher.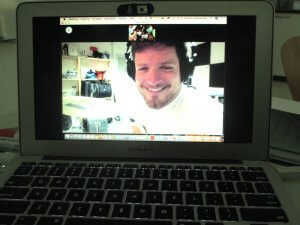 As our summative assessment for the unit: "Know Your Rights" we have to plan an inclusive playground (that means that everybody can play on the playground – children with handicap or not). Daniel was our expert, that we could ask questions about playgrounds for children with handicaps, because, since birth, he is also in a wheelchair.
When he was younger, he didn't have too many choices to play on playgrounds that were suitable for him in his wheelchair. He showed us a few photos of things he would have liked to play with. A sandpit, that was not on the ground, more like a table, so he could sit in the wheelchair while playing with sand. We saw a seesaw that can be used for wheelchairs and also for children who can walk, a swing for wheelchairs and a climbing frame that had a wooden, wobbly bridge for people in a wheelchair and other children. He also told us that an inclusive playground is very important, so we are not excluding people and learn from each other.
We got so many ideas from talking to Daniel, that we were super excited when started to draw up our own ideas for an integrative playground. Thank you, Daniel for the talk and the little concert you gave us! You are a very good drummer!
Text: Grade 3 AGP and SH
Photo: SH