Over the last weeks we were busy working on the unit Healthy Habits.
In German class we have been looking at the Food Pyramid (from the German organisation http://www.aid-ernaehrungspyramide.de that helps students to see what makes up a healthy day's eating and drinking. This system follows the traffic light idea: green (eat and drink a lot of these things), yellow (eat and drink what is suggested, but not more), red (attention, don't eat or drink more than suggested).
In order to make it easier for the students to understand the different groups of the food pyramid, they were able to explore drinks, grains, vegetables and fruits.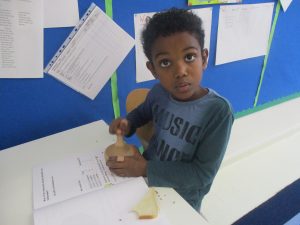 They had fun looking at the different types of flour, tasting different grain products, grinding flour, testing different types of bread, identifying fruits and vegetables, tasting and testing some fruits and vegetables and exploring the cause and effect of exercise and the amount of energy needed with wooden blocks and the scale.
After the break we will look into "Wo hat sich das Fett versteckt?" (Where is fat in our food?) as well as finding out about the amount of sugar in products. Here are some comments from the students during the activities: Wow, Gurke hat richtig viel Wasser! Tee schmeckt gut! Wasser braucht man viel, weil man ja auch Pipi machen muss. Ohne Wasser kann man nur 3 Tage überleben. Wah, das ist nicht lange!!!! Vollkornbrot schmeckt echt besser als das andere! Weizen hat auch noch so was Brauens drum herum. Das habe ich auch im Vollkornmehl gesehen. Wenn ich viel laufen will in der Pause, muss ich auch viel trinken und Obst und Gemüse essen. Ich habe morgens nie Zeit zum Essen und Trinken. Aber ich weiß, dass das nicht gut ist! Ich werde jetzt immer Wasser trinken.
text & photos: SH