Hi Guys, I'm Isabel. I came to H.I.S. in Grade 1 and stayed until the end of Grade 4 then left for South Africa.
I live in Durban at the bottom of South Africa on the coast. South Africa is always very hot and humid, like every day. We also are experiencing a drought throughout the year. I live in house on a conservancy.
The wildlife I see from my bedroom every day includes Impala (a type of deer) Bush buck (also deer) lots of different birds and also naughty monkeys.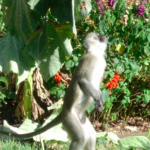 I go to Crawford La Lucia School which has many after school activities. I compete in Cross Country (running) and enjoy art club.
We have lovely beaches to surf and go boogie boarding. I also go horse riding twice a week. I ride a pony called Geismo (Giz-mo) she is a nice, pretty fast pony.
We mainly eat sea food like squid, fish, fishcakes and my favourite sushi. The food is very different compared to Germany. I miss Germany very much and hope to see you all soon!
text & photos: Isabel